World Youth Report 2003
World Youth Report 2003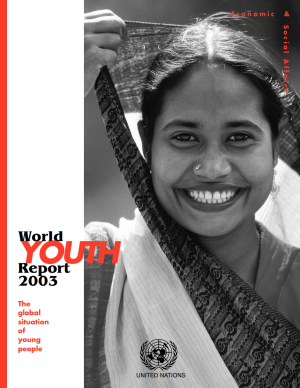 Issue:
Youth
Category:
Flagship Reports
The global situation of young people
The World Youth Report 2003 provides an overview of the global situation of young people. The first 10 chapters focus on the priority areas identified by the
World Programme of Action for Youth (WPAY),
adopted by the General Assembly in 1995. The remaining five chapters address some of the newer issues that were later identified as additional priorities for youth and were adopted by the United Nations Economic and Social Council (ECOSOC) in 2003.
Download the full report or individual chapters below:
Published copies of the World Youth Report 2003: The Global Situation of Young People (Sales No. 03.IV.7, ISBN 92-1-130228-5) are available for US$ 60.00 from United Nations Publications, Two UN Plaza, Room DC2-853, Dept. PRES, New York, NY 10017, USA, tel: +1 800 253 9646 or +1 212 963 8302, fax: +1 212 963 3489, e-mail: publications@un.org or Section des Ventes et Commercialisation, Bureau E-4, Palais des Nations, CH-1211 Geneva 10, Switzerland, tel:+ 41 22 917 2614, fax:+ 41 22 917 0027, e-mail: unpubli@unog.ch; Internet: www.un.org/publications.
World Youth Report 2003
: Report of the Secretary-General (Official document: A/58/79 & E/CN.5/2003/4)
English | Français | Español | Русский | عربي | 汉语