2021: Reconsidering rural development
2021: Reconsidering rural development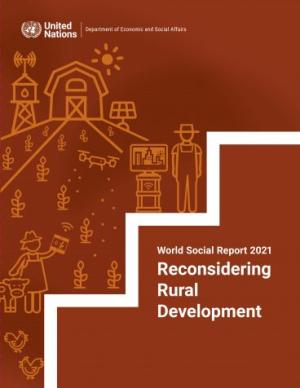 Issue:
Poverty Eradication
Category:
Flagship Reports
An urgent reconsideration of rural development is needed for achieving the 2030 Agenda for Sustainable Development. The current strategies and patterns of rural development are failing to meet either the socioeconomic or the environmental Goals of this Agenda. Four out of every five people who face extreme poverty around the world live in rural areas. Many rural areas are witnessing severe depletion and degradation of natural resources, contributing to climate change and the recurrence of zoonotic diseases, such as COVID-19.
The COVID-19 pandemic, together with already persistent high levels of poverty and inequalities, are threatening to stall progress for the world's rural populations. Through response and recovery efforts, however, opportunities exist to build a greener, more inclusive and resilient future. The experience of the pandemic has shown, for example, that where high-quality Internet connectivity is coupled with flexible working arrangements, many jobs that were traditionally considered to be urban can be performed in rural areas too.
The World Social Report 2021, a flagship publication of the United Nations Department of Economic and Social Affairs (UN DESA) on major social development issues offers new strategies to ensure that the 3.4 billion people who live in rural areas are not left behind as global efforts focus on boosting socio-economic growth and tackling climate change in the middle of the COVID-19 recovery.
The report calls for an end to the rural-urban divide and offers new approaches to advance rural development that would allow rural populations to reach the urban standard of living without having to migrate to urban areas.  These include leveraging the rise of new digital technologies, boosting the non-farm economy and increasing investments in public services and rural infrastructure while protecting the health of the planet.