World Youth Report 2011
World Youth Report 2011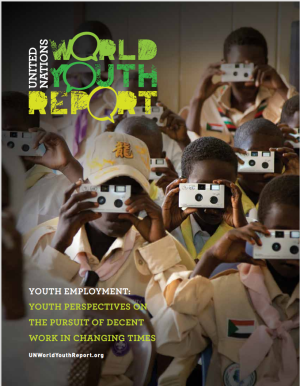 Issue:
Youth
Category:
Flagship Reports
Youth Employment: Youth Perspectives on the Pursuit of Decent Work in Changing Times
The World Youth Report 2011 explores the transition of young people from schools and training institutions into the labour market, a phase marking a critical period in the life cycle. The current employment scenario for young people, worsened by the global economic crisis, poses an urgent challenge with long-term implications for both young people and society as a whole. Young people themselves are crucial stakeholders in the pursuit of decent and productive work for all. Yet, too frequently, their voices go unheard and their positive and negative experiences and viewpoints unshared, particularly with decision-makers. Therefore, the World Youth Report is intended above all to explore youth employment issues mainly through the words of young people themselves around the world.
---
Overview of the Report
Chapter I introduces the status of young people in the labour market and youth employment trends. It provides a snapshot of key youth employment-related demographics, highlighting the critical role of youth employment in social development. The chapter also considers positive and negative trends across countries in various stages of development to illustrate the state of youth employment world-wide.
Chapter II explores education, as the foundation for working life, with focus on views regarding educational quality and utility. Vocational education, life skills and entrepreneurship are highlighted. The chapter examines what some schools are doing, and what more can be done, to help young people transition to work. It considers ways for educational systems to be more responsive to the changing needs of economies and societies, and labour markets in particular. It also looks at ways in which young people may hold policymakers and decision-makers accountable for fulfilling the right to quality education.
Chapter III focuses on the transition of young people into work, particularly the search for a first job. It examines the availability among youth of information on labour markets and job seeking, and explores various mechanisms and tools to inform and advise young people, from networking to subsidized employment programmes. The chapter also looks into potential emerging areas of opportunity for young people.
Chapter IV explores the quality and conditions of jobs held by youth, and how young people's working situation interacts with their family and home lives. It addresses high rates among youth of underemployment, participation in the informal economy, vulnerable employment, wages and working conditions. The chapter also examines how a lack of decent work opportunities can influence family life, social processes such as marriage and fertility, as well as health and well-being.
---
Chapters:
Fact Sheet on Juvenile Justice
Note: A panel discussion on youth employment was held on 6 February 2012 at UN Headquarters in New York to launch the report and examine the role of youth, governments and the private sector in addressing youth employment challenges.