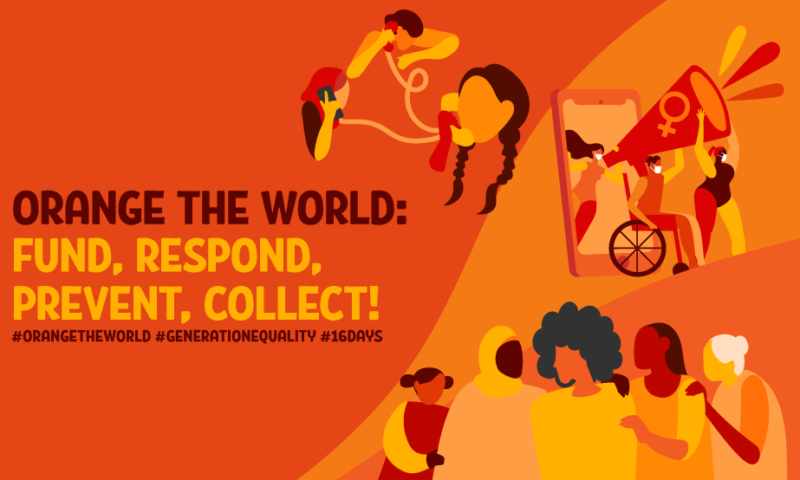 From poetry and storytelling events across 22 provinces in Afghanistan and a solidarity mural in Moldova, to a procession with male district officials on motorbikes in Uganda and a documentary video series in Bosnia and Herzegovina, hundreds of events around the world have called for ending violence against women and girls during the 16 Days of Activism. Under the global theme, "Orange the World: Fund, Respond, Prevent, Collect!", the 16 Days of Activism against Gender-Based Violence campaign (25 November – 10 December) is amplifying the call for global action to end the pandemic of violence, made worse by COVID-19.
Powered by a vibrant women's rights movement around the world, the campaign has reached every part of the world. In grassroots communities, activists led awareness-raising sessions in schools, highlighted the voices of young women and girls against online abuse, women's organizations demanded violence against women to be part of every country's national response to COVID-19, and male allies challenged harmful ideas about masculinities.
Under the UN Secretary-General's UNiTE by 2030 to End Violence against Women campaign, the UN system joined forces during the 16 Days. In partnership with UN Women and the Council of Traditional Leaders of Africa, the UN Population Fund (UNFPA) held a virtual dialogue on the role of traditional leaders in advancing sexual and reproductive health and rights in Africa. The UN Refugee Agency (UNHCR) campaigned against gender-based violence affecting refugee women and girls in Ethiopia and launched a community engagement platform. UNICEF launched a 'Gender Staff Diaries' series, which are first-hand experiences from staff around the world moving the needle for gender equality impact. Other agencies, including the World Health Organization (WHO) and World Food Programme (WFP), raised awareness of violence against women and girls on social media.
As in previous years, iconic monuments and buildings were 'oranged' to signify a brighter future for all women and girls, including the Presidential Palace in Pakistan, the Sky Costanera in Chile, the Dubai Frame in the United Arab Emirates, the UN House in Nigeria and the Skopje Fortress and government building in North Macedonia.
The National Council for Women (NCW), in partnership with UN Women, lit up the Great Pyramids of Giza and the Sphinx on 25 November to launch the 16 Days of Activism and commemorate the International Day for the Elimination of Violence against Women.
During the event, NCW President Maya Morsy said, "Violence against women represents a gross violation of human rights, and has many negative effects on women, whether physical or psychological, which prevents them from actively participating in society."
In speaking about the impact of COVID-19 on violence against women, Christine Arab, UN Women Egypt Country Representative said, "Prior to and during the pandemic, violence against women and girls continues to be a global phenomenon that not only has negative consequences for women but also their families, communities, and nations. But… [it] can be overcome with our joint efforts, investments, and voice."
On 28 November, the famous Dragon and Han River bridges in Dan Nang, Vietnam, were lit in orange to demonstrate the city's commitment to ending violence against women and girls. Dragon Bridge will continue to be lit for an hour every evening until 15 December.
In her remarks at the lighting event, the UN Women Representative in Viet Nam, Elisa Fernandez Saenz said, "Orange represents brilliance, innovation and hope for women and children who are survivors of violence. Through this activity, we urge the participation of all citizens, especially men, so that regardless of being at home, at school, at work or in public places, women and children will be safe and respected."
In Turkey, fireflies are lighting screens to draw attention to cyber harassment and violence against women and girls. Calling everyone to "light a firefly and light the dark" to mobilize one million fireflies, the campaign aims to create an online solidarity network and raise awareness about cyber violence, its various manifestations and consequences, and ways to protect ourselves and others online.
"As all forms of violence against women, cyberviolence affect women's sense of safety, their physical and psychological health, their dignity and rights. Acts of online violence may also force women to retreat from the Internet, affecting their access to services and information, as well as their voice, visibility and participation in public life," says UN Women Turkey Country Director Asya Varbanova.
UN Women held a virtual event on building access to justice for femicide victims from the perspective of their sisters and mothers, in partnership with the EU-UN Spotlight Initiative on 25 November. The event honoured the memory of victims of violence against women and girls and presented five testimonies from mothers and sisters from Colombia, Guatemala and Mexico, who have fought tirelessly in search of truth and justice.
At the meeting, Belén Sanz Luque, Representative of UN Women in Mexico, said: 'The women with us today transformed their grief and pain into a cause and motivation so that other women and families do not have to experience the same tragedies. Their efforts, among others, have highlighted femicide in Latin American as a systemic problem and that norms and laws need to be modified to protect women and ensure sanctions for offenders.'
This year, the 16 Days of Activism campaign comes in the run up to the 2021 Generation Equality Forum – where global actors will make bold commitments to build a "new normal" that delivers a future without violence for all women and girls. UN Women has convened the Action Coalition on Gender-based Violence, an innovative partnership of governments, civil society, youth leaders, private sector and philanthropies to develop a bold agenda of catalytic actions and mobilize funding to back these efforts.
For more 16 Days Activism news and updates, join @UN_Women on Twitter, Facebook and Instagram, and visit UN Women websites for Africa, Arab States, Asia-Pacific, Europe and Central Asia and Latin America and the Caribbean.
Related Links:
Source: UN Women