**Please note that the Secretariat for the Convention on the Rights of Persons with Disabilities cannot provide job career advice.**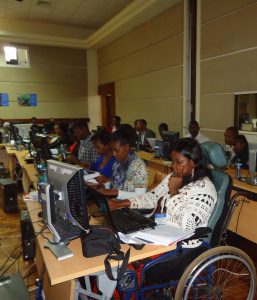 Quick links:
Browse UN Job Openings and apply
If you are interested in applying for an employment or internship opportunity at the United Nations, please apply directly online at https://careers.un.org
Other job opportunities are also available at http://www.unsystem.org/jobs/job_opportunities.htm.
You can learn how to apply, create your Profile and submit your application online at the above link.
Locally recruited positions
Jobs in the General Service and related categories, including those in the trades and crafts, security and safety, secretarial and other support positions, are recruited locally. Please contact the local office of the United Nations in your country directly. At Headquarters in New York, applicants wishing to submit their application for local employment are encouraged to register online at: http://careers.un.org and create a Personal History Profile (PHP).
Internships
If you are thinking of entering the world of diplomacy and public policy, an internship at the United Nations could be the ideal start for you. The objective of the internship is to give you a first-hand impression of the day-to-day working environment of the United Nations. You will be given a real chance to work with our people.
Read more about UN Internships here.
Job Opportunities in the UN system
If you are interested in working for other United Nations agencies, funds and programmes, please visit their websites directly. Most websites can be accessed through the links found at the International Civil Service Commission.
Warning to Applicants
There are job advertisements and offers that falsely state that they are from the United Nations. Please be aware that the United Nations does not request payment at any stage of the application and review process.
The UN does not discriminate
The UN does not discriminate against any individual, race, ethnicity, gender, religion or disability. Read the profiles of our global task force here and the profile of the Director of Division for Social Policy and Development, Ms. Daniela Bas.

Applying for non-governmental organization (NGO) accreditation
The United Nations is an intergovernmental organization and interactions with civil society organizations are conducted through the following NGO processes:
To apply for Consultative Status with the UN Economic and Social Council: http://csonet.org/?menu=83
To become an NGO associated with the UN Department of Public Information: http://outreach.un.org/ngorelations/membership/application/
To obtain accreditation to the Conference of States Parties to the CRPD, please first read information on the Conference, here. Application forms for accreditation to the Conference are accepted two months before each session only. The application form is available here.
See the list of NGOs Accredited to the Conference of States Parties to the CRPD.