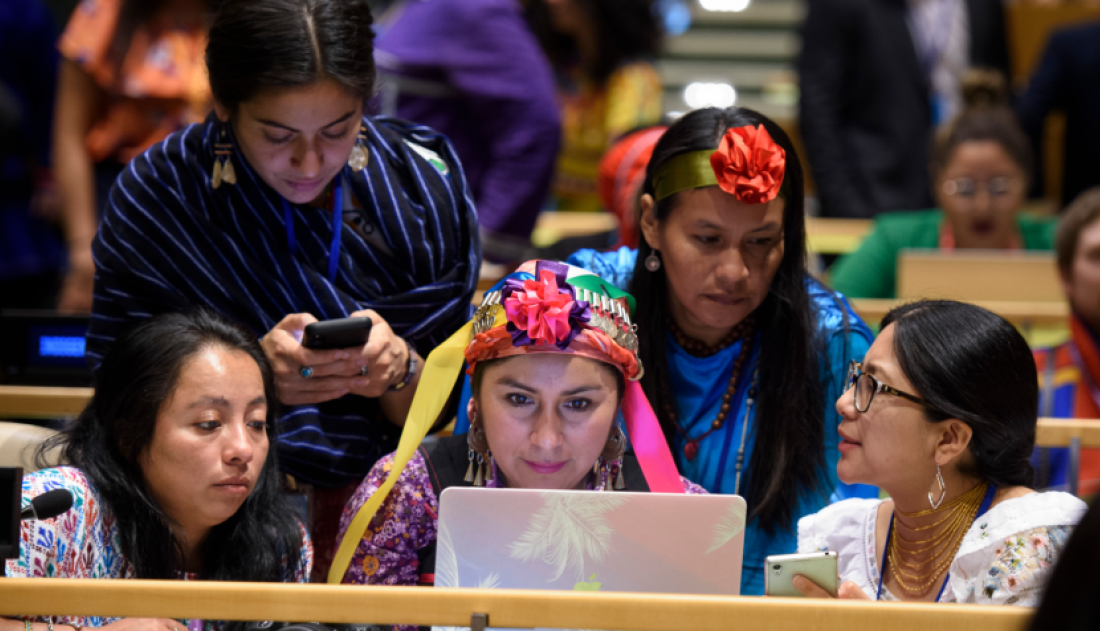 Every year, the Indigenous Peoples and Development Branch within the Division for Inclusive Social Development of the Department of Economic and Social Affairs organizes an international expert group meeting on a theme recommended by the Permanent Forum on Indigenous Issues and endorsed by the Economic and Social Council.
Expert Group Meeting
"Peace, justice and strong institutions: the role of indigenous peoples in implementing SDG 16"
19 – 21 November 2019
University of Chiang Mai, Thailand
The Permanent Forum at its 2019 annual session decided that the theme for the 2020 session of the Forum will be "Peace, justice and strong institutions: the role of indigenous peoples in implementing Sustainable Development Goal 16". The Permanent Forum also decided that the EGM should be held on the same theme to inform the work of the 19th Session.
Meeting objectives
Take stock of the impacts of conflicts on indigenous peoples and of challenges regarding their participation in peace-building as well as in conflict resolution processes;
Evaluate the recognition of their institutions and their participation in local/national decision-making mechanisms;
Share good practices in the various areas: cooperation with indigenous peoples in peace-building and conflict resolution, protection of indigenous human rights defenders, providing access to justice to remote communities, establishment of truth and reconciliation commissions, inclusion of indigenous peoples' representatives and institutions at different levels, etc.;
Assess the situation of indigenous women in the context of conflicts and participation in decision-making;
Identify further areas and targets of SDG 16 in which's implementation indigenous peoples can contribute;
Analyze gaps in the implementation of the United Nations Declaration on the Rights of Indigenous Peoples;
Propose recommendations and next steps to ensure the recognition of indigenous peoples' rights and institutions.
Attendance at this meeting was by invitation only as space was very limited.
---
Report:
E/C.19/2020/7 International expert group meeting on the theme "Peace, justice and strong institutions: the role of indigenous peoples in implementing Sustainable Development Goal 16″: Note by the Secretariat: | AR | EN | ES | FR | RU | ZH |
Background documents: 
Invited experts:
Silvia Museiya, Chairperson, Indigenous People National Steering Committee on Climate Change, Kenya
Joenia Wapichana, Congresswomen, Brazil
Ramiro Avila Santamaría, Judge of the Constitutional Court of Ecuador and Professor of Law at the Andean University Simon Bolivar
Joan Carling, Co-Chair of Indigenous Peoples Major Group
Eric Descheenie, Former State Representative, Navajo Peoples
Tuenjai Deetes, Commissioner of National Human Rights Commission of Thailand
Naw Ei Ei Min, Director of Promotion of Indigenous Nature Together
Dr. Madeline Berma, Human Rights Commission of Malaysia
Paper submitted by expert:
Reference documents:
United Nations Declaration on the Rights of Indigenous Peoples
Report of the Special Rapporteur on the rights of indigenous peoples – Access to justice in ordinary and indigenous justice system (2019)
Report of the 15th Session of the United Nations Permanent Forum on Indigenous Issues "Indigenous peoples: conflict, peace and resolution" (2016)
UN Women "Indigenous women and the women, peace and security agenda" (2016)
Access to justice in the promotion and protection of the rights of indigenous peoples. Study by the Expert Mechanism on the Rights of Indigenous Peoples (2013)
Administration of justice, indigenous peoples and human rights: The courts and the rights of indigenous peoples. Discrimination and the justice system. The criminalization of indigenous protest activities. Indigenous law and culture and alternative dispute resolution (2004)