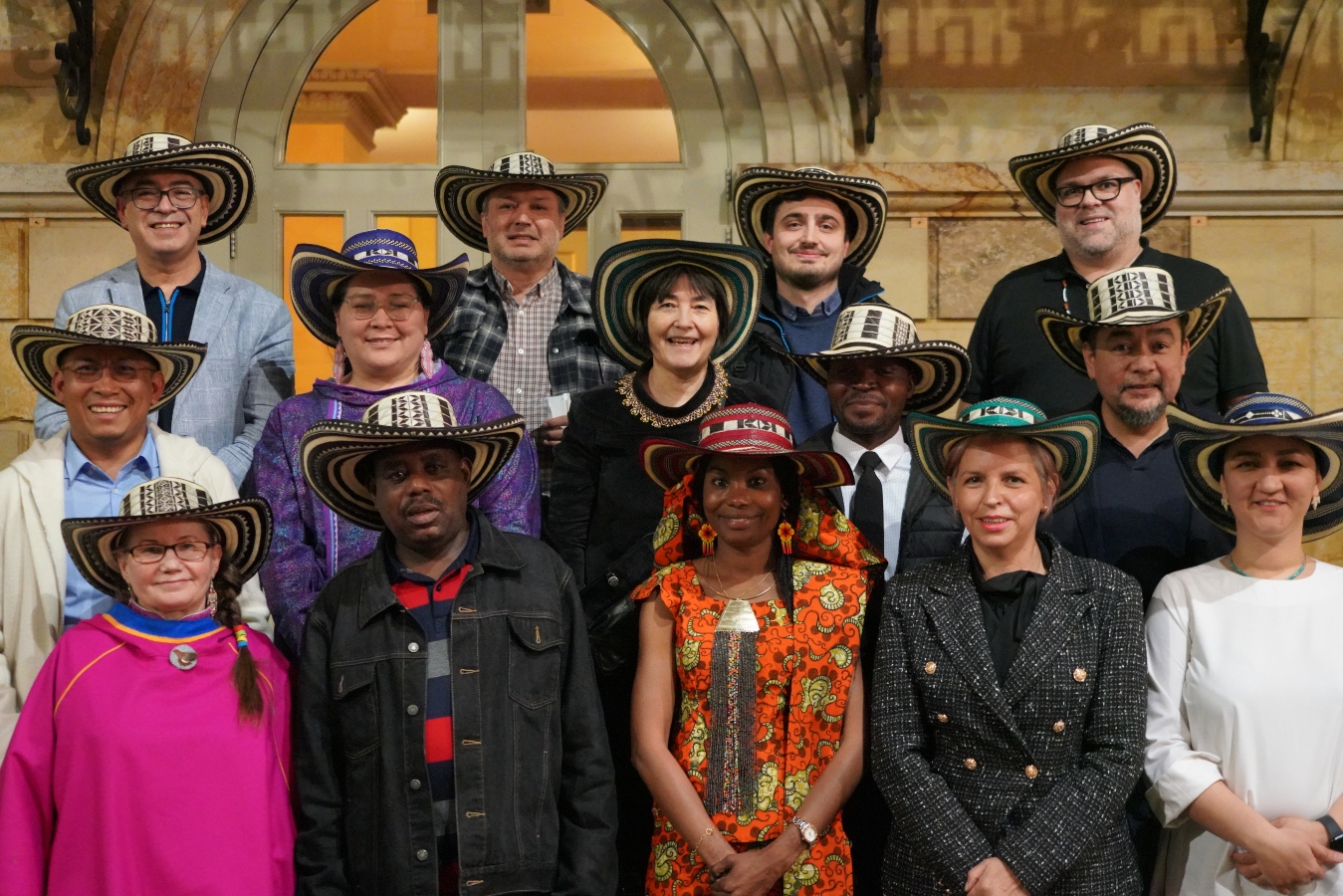 The Permanent Forum on Indigenous Issues consists of sixteen members: 'Eight members to be nominated by Governments and elected by the Council, and eight members to be appointed by the President of the Council following formal consultation with the Bureau and the regional groups through their coordinators, on the basis of broad consultations with indigenous organizations, taking into account the diversity and geographical distribution of the indigenous people of the world as well as the principles of transparency, representation and equal opportunity for all indigenous people, including internal processes, when appropriate, and local indigenous consultation processes.'
The members of the Permanent Forum from 1 January 2023 to 31 December 2025 are as follows:
---
Mr. Vital Bambanze (Burundi)
Nominated by Governments
Mr. Bambanze is a former Senator (2010-2015) of Burundi and representative of the Batwa Indigenous Peoples in the Senate of Burundi. He is currently Director of Unite for the Promotion of Batwa (UNIPROBA), an organization created by the Batwa for the Batwa. Mr. Bambanze was one of its founding members in 1999. He holds a degree in African Languages and Literatures from the University of Burundi.
---
Ms. Tove Søvndahl Gant (Denmark)
Nominated by Governments
Mrs. Tove Søvndahl Gant was born and raised in Qaqortoq in Southern Greenland. She holds a diploma in English Language and Literature and a Master of Arts in Social and Political Sciences. As an official of the Government of Greenland and in close cooperation with the government of Denmark, she has followed key UN processes pertaining to Indigenous Peoples' rights and sustainable development for nearly three decades. During the 1990s and early 2000s, she was actively involved in Nordic and international networks to support the capacity building of Russian Indigenous Peoples' organizations. During her career, she also served as the Executive Secretary of the Indigenous Peoples' Secretariat of the Arctic Council, charged with facilitating the participation of Arctic Indigenous Peoples' organizations in the work of the Arctic Council in the field of environmental protection and sustainable development.
From 2008-2012, Mrs. Gant served as the Chairperson of the Board of Governors of Ilisimatusarfik, the University of Greenland, and from 2010-2019 on the board of Governors at the University of the Arctic,  serving as Vice-Chair from 2013. Since 2014, Mrs. Søvndahl Gant has been seconded to the Human Rights Division of the European External Action Service in Brussels, where she works on a range of human rights files, including and inter alia on the rights of Indigenous Peoples, discrimination (including caste-based), racism, xenophobia, and the rights of persons with disabilities. From 1996-2003, Mrs. Gant also served as a Member of the Board of Trustees for the United Nations Voluntary Fund for Indigenous Peoples, which included membership of the Advisory Group for the United Nations International Decade on the World's Indigenous People and the United Nations Voluntary Fund for the International Decade of the World's Indigenous People.
---
Mr. Ali Hajilari (Islamic Republic of Iran)
Nominated by Governments
Mr. Ali Hajilari graduated from the College of International Relations of Iran's Foreign Ministry (1997) and is a Ph.D. candidate in European Studies from the University of Tehran. He has worked in the Foreign Ministry of the Islamic Republic of Iran since 1999, both at headquarters and abroad.
Mr. Hajilari has served as a member of Iranian delegations to numerous multilateral fora, including the United Nations General Assembly (Representative in the Second Committee in 2014 and 2018-2022), UNESCO General Conference (2009-2013) among others. He is the author of two books and several articles on different dimensions of culture, society and identity challenges, with a focus on Europe.
Mr. Hajilari previously served as Deputy Head of the Department of International Social Cooperation and Deputy Head of the Department of UNESCO Affairs and International Scientific Cooperation in Iran's MFA. He was the Counselor of the Permanent Mission of the Islamic Republic of Iran to UNESCO (2009-2013) and is currently the First Counselor of the Permanent Mission of the Islamic Republic of Iran to the United Nations.
---
Mr. Keith M. Harper (United States of America)
Nominated by Governments
Ambassador (ret.) Keith M. Harper, a citizen of Cherokee Nation, is a Partner at Jenner & Block and is Chair of the Native American Practice and Co-Chair of the Human Rights & Global Strategy Practice. Concurrently, he taught in the 2021-2022 academic year as a Senior Fellow at Brown University's Watson Institute for Public and International Policy. From 2014 to 2017, he served as US Ambassador and Permanent Representative to the UN Human Rights Council in Geneva, Switzerland.
Other than his time as a diplomat, Ambassador Harper has represented Indian Tribes and individual Indians in litigation matters for over two decades.  Among other cases, he represented the plaintiff class of 500,000 individual Indians and served as class counsel in the landmark Indian trust funds lawsuit, Cobell v. Salazar, where he ultimately negotiated a $3.4 billion settlement.  From 2010 to 2014, Ambassador Harper served as Commissioner on the President's Commission on White House Fellowships. He also served as a member of the Obama-Biden Presidential Transition Team in the Energy and Environment Cluster. Ambassador Harper was previously a litigator at the Native American Rights Fund (NARF) from 1995 to 2006. During his tenure at NARF, he also taught Federal Indian Law as an adjunct professor at Catholic University Columbus School of Law and at American University Washington College of Law. Ambassador Harper has previously served as a Justice on the Supreme Court of the Poarch Band of Creek Indians and as an Appellate Justice on the Mashantucket Pequot Tribal Court.
---
Ms. Hindou Oumarou Ibrahim (Chad)
Nominated by Indigenous Peoples' Organizations
Ms. Hindou Oumarou Ibrahim is an Indigenous Mbororo woman from Chad. She is an expert in Indigenous Peoples' traditional ecological knowledge and climate change adaptation and mitigation strategies. She served as Co-Chair of the International Indigenous Peoples Forum on Climate Change in COP20, COP21, COP22, COP23, which pushed for greater recognition of the role of Indigenous Peoples in the fight against climate change. Hailing from a Mbororo pastoralist community in Chad, Ms. Ibrahim founded the Association for Indigenous Women and Peoples of Chad (AFPAT) and works to empower Indigenous Peoples' voices and ensure their inclusion on international platforms.
 She leads a number of projects that aim to improve Indigenous Peoples' access to basic services, while also promoting their unique contribution to the protection of the environment at the local and national level. For example, Ms. Ibrahim conducts three-dimensional participatory mapping, which helps to prevent resource-based conflicts in one of the poorest and most vulnerable regions of the world, and has also worked on implementing local solutions to improve women's resilience to climate change. Ms. Ibrahim gained recognition for her work and in 2019, she became the Laureate of the prestigious Pritzker Emerging Environmental Genius Award.
---
Ms. Aluki Kotierk (Canada)
Nominated by Indigenous Peoples' Organizations
Originally from Igloolik, now residing in Iqaluit with her family, Nunavut Tunngavik President Aluki Kotierk leads by example. Throughout her career and to this day,  Ms. Kotierk is driven by her passion to empower and improve the lives of Inuit. After earning her Master's degree in Native and Canadian Studies at Trent University, Ms. Kotierk  worked for various Inuit organizations including Pauktuutit Inuit Women of Canada, Inuit Tapirisat of Canada (now known as Inuit Tapiriit Kanatami), and Nunavut Sivuniksavut. She has also held management and Deputy Minister roles within the Government of Nunavut, Office of the Languages Commissioner and Nunavut Tunngavik Incorporated. In her current role as President, Ms. Kotierk is interested in how Inuit language and culture can be better incorporated into the way in which programs and services are designed and delivered in Nunavut. Aluki is currently one of two Co-Chairs representing Indigenous People's Organizations on the Global Task Force for the International Decade of Indigenous Languages (IDIL) 2022-2032.
---
Ms. Li Nan (China)
Nominated by Governments
Ms. Li Nan is currently Counselor of the Department of International Organizations and Conferences, Ministry of Foreign Affairs of the People's Republic of China. She has been working in the foreign service since the 1990s, with responsibilities for diverse multilateral issues such as human rights, anti-terrorism and regional cooperation. She was posted to the Permanent Mission of the People's Republic of China to the UN Economic and Social Commission for Asia and the Pacific (UNESCAP). Prior to her current position, she served as Senior Officer of the United Nations Association of China. Ms. Li's connection with Indigenous issues dates back to the 2000s, when she served as Personal Assistant to the first Chinese expert of the UN Permanent Forum on Indigenous Issues. Ms. Li holds a Bachelor's degree in Arts and a Master's degree in International Human Rights and Humanitarian Law.
---
Mr. Suleiman Mamutov (Ukraine)
Nominated by Governments
Suleiman Mamutov holds a Master's degree in International Law and possesses a wealth of experience in law, public policy, and advocacy. Actively engaged in both Ukrainian and international NGOs, he has launched and led many impactful initiatives and projects in peacebuilding, human rights, protection of the rights of Indigenous Peoples (advocacy, awareness raising & language preservation), emergency response, and protection of civilians in armed conflicts.
Mr. Mamutov has effectively contributed to the shaping and promotion of draft laws and state policies, such as the Law on Indigenous Peoples of Ukraine, the Draft Law on the Status of the Crimean Tatar People, the Law on Ensuring Rights and Freedoms of Internally Displaced Persons, the National Human Rights Strategy, and the Draft National Strategy on the protection of civilians in armed conflicts.
---
Mr. Bornface Museke Mate (Namibia)
Nominated by Governments
Mr. Mate is a Law graduate from the University of Namibia. He worked as a Legal Officer in the Ministry of Justice's Department of Legal Services and International Cooperation, Namibia. He also worked as a Personal Assistant to the Deputy Minister for Marginalized Communities. Mr. Mate holds several certificates from various institutions specializing in Legal Drafting, Human Rights and Public International Law. He has contributed to the drafting of policies and legislations for the benefit of marginalized and Indigenous communities, including the implementation of various community development projects in his country.
Currently, Mr. Mate is a Development Planner for Education Support in the Office of the Vice President in Namibia, heading the Subdivision of Education in the Division of Marginalized Communities, and is responsible for the integration and the protection of human rights of the San, Ovatjimba and Ovatue communities. He is currently pursuing an Honors Degree in International Relations and Cooperation with the University of South Africa.
---
Ms. Hannah McGlade (Australia)
Nominated by Indigenous Peoples' Organizations
Ms. Hannah McGlade is a Noongar Human Rights and Social Justice Advocate from Western Australia. She has worked for many Indigenous organizations and bodies, and has played an instrumental role in establishing services for Indigenous women and children impacted by violence.  A former Senior Indigenous Fellow at OHCHR, Ms. McGlade has participated in many United Nations fora to promote Indigenous human rights in Australia, and is currently an advisor to the Noongar Council for Family Safety and Wellbeing and an Associate Professor at Curtin University.
---
Mr. Darío José Mejía Montalvo (Colombia)
Nominated by Indigenous Peoples' Organizations
Mr. Mejia Montalvo belongs to the Indigenous Zenú Peoples of San Andres Sotavento. He is a Political Scientist from the National University of Colombia, with a Master's degree in Management of Development conferred by University of the Autonomous Regions of the Nicaraguan Caribbean Coast (URACCAN). He is a lecturer and consultant for different organizations and institutions. He is also a member of the National Commission for Labor and Coordination of Education of the Indigenous Peoples of Colombia – CONTCEPI.
Mr. Mejia Montalvo is the leader of the National Indigenous Organization of Colombia (ONIC). From 2008 to 2012, Mr. Mejia served as ONIC Counselor of Education. Additionally, he is a former member of the Board of Directors of the Fund for the Development of Indigenous Peoples of Latin America and the Caribbean, and the Technical Secretary of the Permanent Dialogue Mechanisms between the National Government and the Indigenous Peoples of Colombia. In 2014, Mr. Mejia Montalvo coordinated the conclusion of the 1953 Decree, the Indigenous component of the National Development Plan. Additionally, he supported the "Fast Track" procedure within the framework of the Final Peace Accord.
---
Ms. Naw Ei Ei Min (Myanmar)
Nominated by Indigenous Peoples' Organizations
Naw Ei Ei Min is Executive Council Member of Asia Indigenous Peoples Pact (AIPP), based in Thailand. She advocates for sustainable development and natural resource management of all peoples regardless of gender or ethnicity. Since COP20, she has been an advocate of Indigenous Peoples' rights in climate change negotiations, and has continued her engagement on climate change issues related to Indigenous Peoples at local, national, regional and international levels. In addition, she actively works on issues around Indigenous Women, biodiversity protection, promotion of Indigenous knowledge and land rights. She holds a Master's degree in International Development Studies, Chulalongkorn University, Bangkok, and a Diploma in Environmental Policy in an International Context, Open University, UK.
---
Ms. Hanieh Moghani (Islamic Republic of Iran)
Nominated by Indigenous Peoples' Organizations
Ms Hanieh Moghani is a Researcher, Legal Counsel and University Lecturer in Iran. She holds a Doctorate in International Law, specializing in how new technologies affect farmers' rights to seed production and trade. She also holds a Master's degree in Middle Eastern and North African Studies, with a focus on food security. With over a decade of experience, Ms Moghani has participated in more than 20 national and international projects with Indigenous nomadic pastoralists and local communities to advocate for recognition of Indigenous and Community Conserved Areas and Territories (ICCAs), and for their rights to access and manage traditionally-occupied territories and natural resources.
Her work examines Indigenous Peoples' expertise in seed management and food sovereignty, and highlights good practices in climate adaptation, water management, and agriculture. Her work with Indigenous and local communities aims to end poverty and hunger, improve nutrition and biodiversity protection, and guarantee the intellectual property of Indigenous traditional knowledge.
---
Mr. Rodrigo Eduardo Paillalef Monnard (Chile)    
Nominated by Governments
Mr. Paillalef is a lawyer and belongs to the Mapuche People. He is currently Senior Advisor on Indigenous Issues at the Vincular Center, School of Business and Economics of the Pontifical Catholic University of Valparaiso in Chile.
He has also worked as a Consultant for the UNDP and OHCHR (Regional office for South America).
In Geneva, he was a representative for the Fund for the Development of the Indigenous Peoples of Latin America and the Caribbean (FILAC). Mr. Paillalef also worked at the International Commission of Jurists, on issues related to Business and Human Rights.
Mr. Paillalef served as Attaché at the Permanent Mission of Chile to the United Nations and other international organizations in Geneva, Switzerland.
---
Mr. Geoffrey Roth (United States)
Nominated by Indigenous Peoples' Organizations
Geoffrey Roth (Standing Rock Sioux – unenrolled) has devoted his entire career, spanning 20 years, to the advocacy of Indigenous rights in diverse sectors. He is currently providing advice on policy and legislative strategies for Urban Indian Organizations. Mr. Roth recently Co-Founded Inaji, an Indigenous-led technology company, providing culturally competent solutions to improve American Indian/Alaska Native (AI/AN) healthcare. Additionally, Mr. Roth is a small business owner managing real estate portfolios in Washington, D.C.
Former President Barack Obama appointed Mr. Roth in 2010 to serve in the U.S. Department of Health and Human Services (HHS) and the Indian Health Service (IHS), which is responsible for the allocation of a $6 billion federal appropriation for AI/AN healthcare. During this appointment, Mr. Roth advised executive management of IHS, led the implementation of the Indian Health Care Improvement Act (IHCIA), and collaborated with HHS leadership on the implementation of the Affordable Care Act (ACA). Prior to that, Mr. Roth served as the Executive Director of the National Council of Urban Indian Health (NCUIH), representing community-based Indigenous health centers in cities across the United States. During his tenure, he was integral in ensuring the continuation of the Urban Indian Health program within IHS, and also securing policy gains in the ACA and IHCIA for Urban and all Indigenous peoples in the USA. Mr. Roth also served as the President of the National Native American AIDS Prevention Center and represented the USA in the International Indigenous Working Group on HIV and AIDS. Ever mindful of remaining grounded in humble service to our youth and elders, Mr. Roth is a fierce advocate for his people in health, education, and self-determination.
---
Ms. Valentina Vyacheslavovna Sovkina (Russian Federation)
Nominated by Indigenous Peoples' Organizations
Valentina Sovkina was raised in a family of reindeer breeders and fishermen. With more than 30 years' experience as a Saami advocate, Ms. Sovkina specializes in child pedagogy and psychology.
She is a member of the international organization, "Sami Women's Forum", and was elected Deputy in the rural settlement of Lovozero. For a number of years, Ms. Sovkina has served as a member of the Working Group on Indigenous Peoples of the Barents Euro-Arctic Region, as a member of the expert community of Indigenous Peoples of the North, Siberia and the Far East, "Aborigen Forum", and participated in the Indigenous Food Systems Coalition.
Ms. Sovkina's priorities include the protection of the rights of Indigenous Peoples, and the protection of their traditional way of life, language and culture.