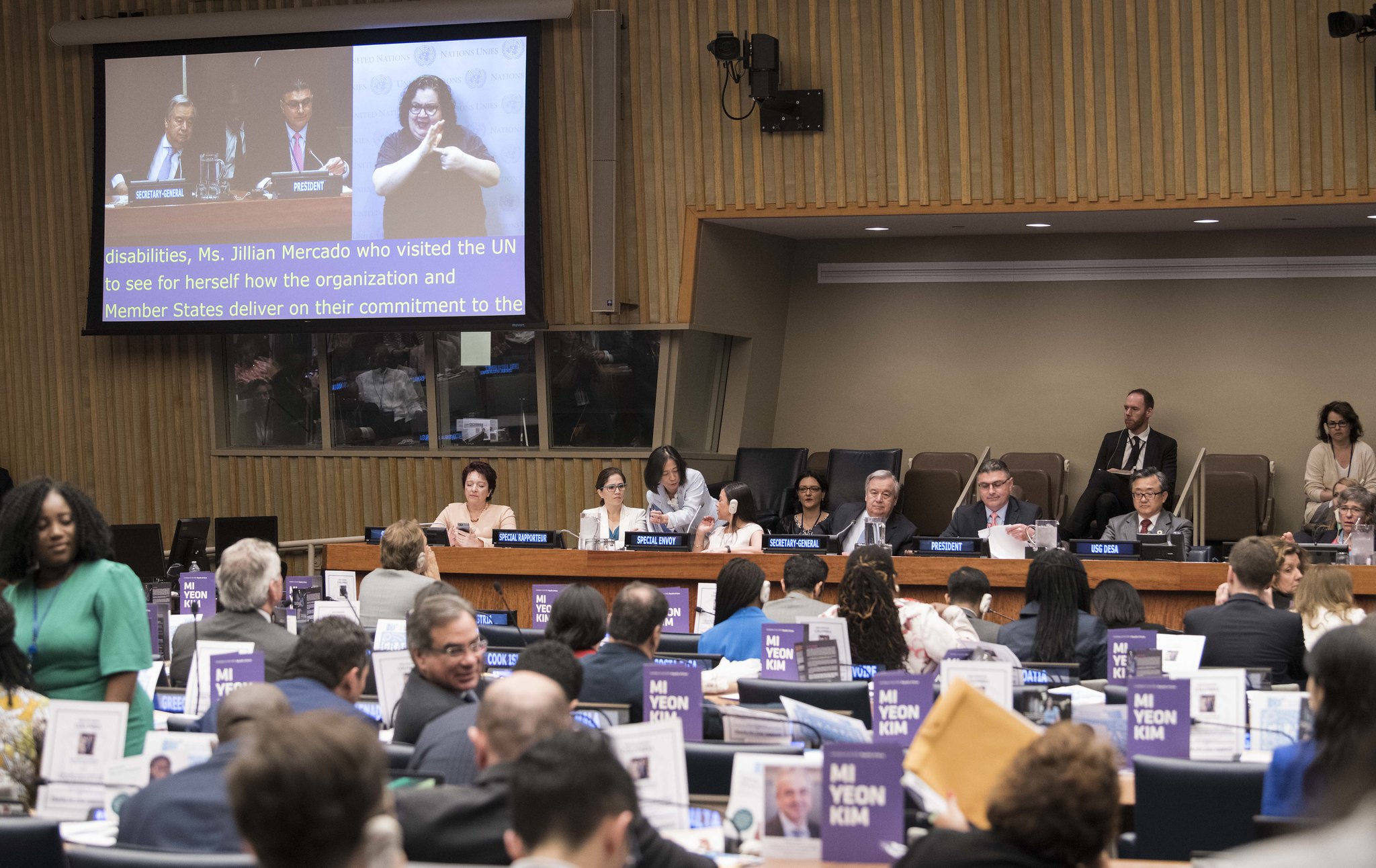 The Conventin on the Rights of Persons with Disabilities (CRPD) was adopted by the General Assembly by its resolution 61/106 of 13 December 2006. It came into force on 3 May 2008 upon its 20th ratification.
Article 40 of the Convention stipulates that "The States Parties shall meet regularly in a Conference of States Parties (COSP) in order to consider any matter with regard to the implementation of the present Convention."
Since 2008, the following are the sessions of the Conference of States Parties that meet at United Nations Headquarters in New York.
The 16th session of the Conference of States Parties to the CRPD (COSP16) will take place at the United Nations Headquarters, New York,  from 13 to 15 June 2023.
---

Bureau
President-elect(Africa): Tunisia

Vice-presidents-elect:
Sri Lanka (APG)
Georgia (EEG)
Panama (GRULAC)
Greece (WEOG)
---
Theme and sub-themes of the Conference
Overarching theme: Harmonizing national policies and strategies with the CRPD: achievements and challenges
Sub theme 1: Ensuring equal access to and accessibility of sexual and reproductive health services for persons with disabilities
Sub theme 2: Digital accessibility for persons with disabilities
Sub theme 3: Reaching the under-represented groups of persons with disabilities
---
Credentials
The United Nations Department of Economic and Social Affairs (UN DESA) has sent a  Note Verbale (DESA-23/00178, dated 26 January 2023) by which the secretariat is pleased to:

(1) Notify States Parties and Observers of the convening of the 16th session in New York from 13 to 15 June;

(2) The e-Credentials/e-Delegate services will be made available to delegations starting from 1 March 2023 for the submission of a scanned copy of their credentials for the 16th session of the Conference of States Parties. The original copy of the credentials shall be submitted to the secretariat at the conference room-General Assembly Hall of the opening meeting on 13 June.

(3) States are kindly requested to inform their delegates of any specific accessibility requirements and forward this information via email to enable@un.org as soon as possible by May 1st in order to help ensure accessibility for all participants.
Download the step-by-step Guidance on how to submit credentials to the General Assembly meetings via the e-Credentials portal.
If delegations experience any technical issues using the e-DELEGATE portal for submitting their Credentials, please direct inquiries to the Secretariat: missions-support@un.int.
---

Civil Society Participation
---
Side Events 
Please note that the online application form for side events will be open from 3 April to 1 May 2023.
The link to the online form will be available on Monday 3 April 2023.
Most COSP16 side events will take place virtually. Hosting in-person side events at the UN Headquarters in New York is ONLY open to Permanent Missions, intergovernmental organizations, and United Nations system entities. NGOs can attend these in-person side events if they are registered and approved in Indico.
 
Member States, United Nations Agencies, and accredited NGOs are invited to inform the Division for Inclusive Social Development (DISD) of UNDESA of any other planned side-events to be included in the list of COSP16 side-events that will be published online at the COSP16 website on May 12, 2023. Please email us at socialngo@un.org and copy enable@un.org.
 
Please note that NGOs can host their side event in-person either jointly with at least one member state or a UN agency, or host their event outside of the UN headquarters, or in virtual format using their own hosting platform such as Zoom or WebEx.